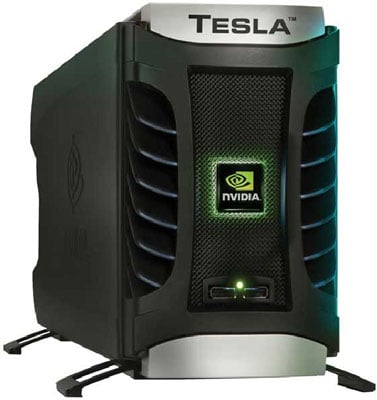 Its about time we get supercomputers for ourselves, right? All those with deep pockets who dream of really owning a supercomputer,your prayers have been answered.
NVidia has come up with "Tesla personal supercomputer" that delivers cluster computing like performance and is upto 250 times faster than the present day personal computers or workstations.
Tesla is powered by 4 GPU's, each having 240 processing cores (that makes 4*240=960 cores working in parallel in total) based on the NVidia's CUDA architecture, delivering whopping performance of near 4 Teraflops!
Here are some more of its specs from NVidia website:
Tesla Architecture
Massively-parallel many-core architecture
240 scalar processor cores per GPU
Integer, single-precision and double-precision floating point operations
Hardware Thread Execution Manager enables thousands of concurrent threads per GPU
Parallel shared memory enables processor cores to collaborate on shared information at local cache performance
Ultra-fast GPU memory access with 102 GB/s peak bandwidth per GPU
IEEE 754 single-precision and double-precision floating point
Each Tesla C1060 GPU delivers 933 GFlops Single Precision and 78 GFlops Double Precision performance
Software Development Tools
C language compiler, debugger, profiler, and emulation mode for debugging
Standard numerical libraries for FFT (Fast Fourier Transform), BLAS (Basic Linear Algebra Subroutines), and CuDPP (CUDA Data Parallel Primitives)
Product Details
3 or 4 Tesla C1060 Computing Processors with 4GB of dedicated memory per GPU
2.33 GHz+ Quad-core AMD Phenom or Opteron, — OR — Quad-core Intel Core 2 or Xeon
Minimum system memory: 12 GB for 3 Tesla C1060s and 16 GB for 4 Tesla C1060s (at least 4GB per Tesla C1060)
12GB+ system memory (at least 4GB per Tesla C1060)
1200-1350 Watt Power supply
Acoustics < 45dbA
Supported Platforms
Microsoft® Windows® XP 64-bit and 32-bit (64-bit recommended)
Linux® 64-bit and 32-bit (64-bit recommended)

Red Hat Enterprise Linux 4 and 5
SUSE 10.1, 10.2 and 10.3
All is fine but,can it run crysis? lol
If you want to lay your hands on this ultimate mean machine, you will have to lighten your pockets by about $10,000!