The day has finally arrived. Scientists will make the first attempt to circulate the first beam in the LHC or Large Hadron Collider tomorrow. European Organization for Nuclear Research (formerly known as Conseil Européen pour la Recherche Nucléaire) or CERN had earlier announced the start-up date for this most ambitious scientific research project ever to be undertaken by mankind, to be 10th Sep 2008.
If you are not very aware of LHC then here are some quick points.
LHC is the biggest ever scientific research project being undertaken by human which will give us an insight on some of the most intriguing questions like how everything was created? How and why is everything the way it is? From where did the universe,solar system,stars,planet,earth, humans animals and other beings came into existence? It will try to fit in the missing links in the standard theory of physics.
Over 8000 scientists from over 85 countries working for CERN will attempt to uncover these mysteries with help of LHC. The mega machine costs about 8 billion USD. They will make sub-atomic particles called protons collide with each other at nearly the speed of light in pursuit of creation of the moment just before the Big bang and the hypothesized Higgs particle also known as the Higgs Boson and the god's particle.
LHC spans 27kms in circumference and is situated on the Frech-Swiss border about 80m beneath the earth's surface.
The protons beam will be circulated in opposite directions and will be accelerated to nearly the speed of light and will be carrying astronomical energy of about 7 TeV each. The energy requirements are being mainly met by France. The protons revolving at the speed or 11,000 revolutions per second (of LHC) will be made to collide at four specific points where the data generated will be collected and the scientists will look for the elusive Higgs particle apart from other researches. To make sure the protons only move in the designated path, the sub atomic particles will be under the influence of about 1600 superconducting magnets operating at -271.25 °C or 1.5 K which as close as currently possible to the  absolute zero kelvin.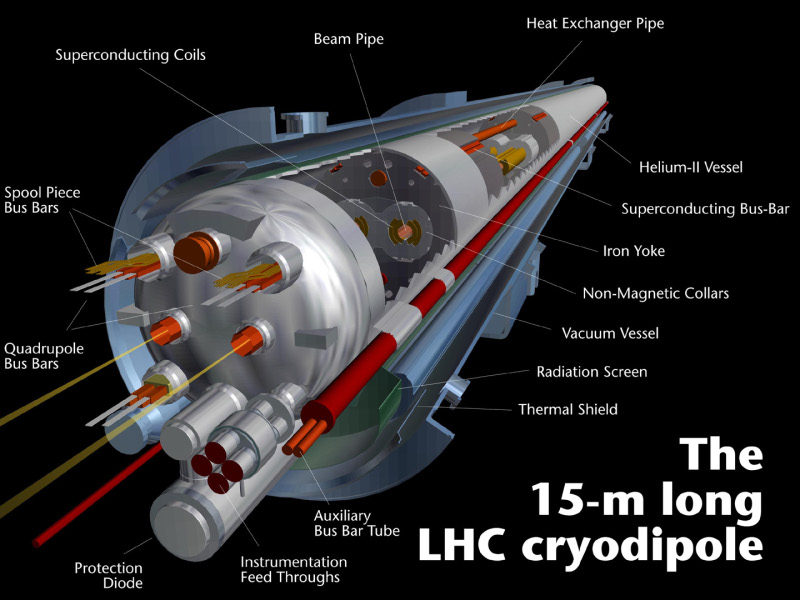 When the protons traveling in opposite beams in the tunnel collide with each other, the data will be released at enormous speeds of 27 TB of raw data per day which makes it impossible for normal servers to cope up with the speed of data generation. For this, CERN has designed a new technology called the Grid in which all the computers are interlinked with each other to form one mega super computer. The grid will also revolutionize our internet,possibly making it about 10.000 times faster than it is today.
Watch this video which does a great job of explaining LHC in layman's language.
See this video from CERN's site for a better understanding of what they will be doing in the experiment.
LHC will be started on 10 Sep 2008 at 0700 hrs (GMT). The event will be shown live on web also via the CERN webcast. If you wish, you can watch the whole event live at the CERN webcast.
A lot of skeptics are also worried about the negative results of LHC. They fear that the LHC will result in formation of mini black holes, strangelets etc which will consume the Earth and eventually the solar system and the universe. Scientists say that there is no ground for believing in these notions. Renowned UK physicists Brain Cox says that the mini black holes produced by the LHC will be so short lived that they will be incapable of doing any harm to us. The black holes will die out within a few femto seconds of being created. Also, a black hole needs to be of atleast of a particular size to be able to engulf other matter.
And will you be alive after the experiment starts on 10 Sep? Of course yes. Firstly because, they are not colliding protons on Wednesday, they are just attempting to circulate the protons in the tunnel in rclockwise direction. The event which could result in mini black hole will be when they collide the two beams moving in opposite direction with each other, which will be in October 2008. So there is no question of the dooms day to be on Wednesday. So stop listening to all the crap in media.They dont know what they are talking because they dont know that there is no collision taking place on 10th. they just want TRP's and a little un deserved attention.
Secondly, if today was that day of October on which collision was to take place then also my answer would be a no, because scientists from all over the world, much much smarter than you and me are working on it. Rest assured they will be doing it in the most safe and controlled manner possible.
Watch this video. It shows Michio kaku explaining why LHC will not harm us.

They also dont want the mother earth to die.
As a light ending note, if anything does go wrong and we all die, you can sue me!