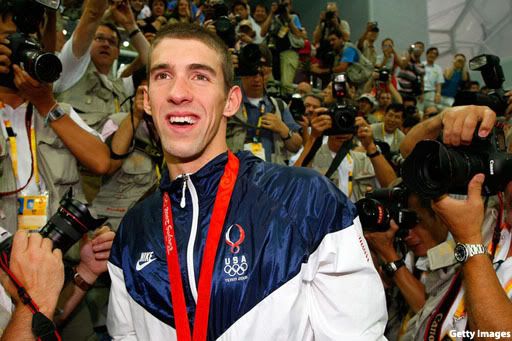 Michael Phelps, the swimming sensation has taken the world by storm. He made history by winning 8 gold medals in a single olympics.(Thats more than what most countries can manage) He won his 8th gold medal in 4×100 medley relay event. He now has 14 Olympic gold medals in his kitty, 8 from Beijing and 6 from Athens last time. Whoa. He has most golds than any one else, thats a record too.
His overall medal tally is now 16, only two shy of another record.
But the 23 year old,popularly known as the Baltimore bullet is far from finish. With London 2012 games well within his grasp, what can we expect from him? Well,can he touch 20 gold medals? thats a staggering figure,one that will take probably forever to be broken but, as the man says, nothing is impossible. Well you have to believe it if he says so.
Phelps broke the 36 year old 7 gold medals in one olympic record of Mark Spitz which he managed at the Munich games of 1972. But how will this record be bettered, will remain to be seen. I will consider myself lucky to see this record broken after having witnessed what it takes to make this record. There were times when he was trailing, still Phelps came out from behind to win. Amazing stuff. Champion of champions. Well, if you want to break that record then you better start practicing now. All you need is lots of self bellief, stamina, dedication, commitment, focus <….put as many adjectives you want here>and lots of apetite(he consumes nearly 2000 calories a day!)