It seems as if the most famous website amongst the movie buffs, IMDB was hacked.
May be an angry supporter of other top movies like Godfather, The Shawshank Redemption dint like The Dark Knight's stint at IMDB. Frustrated by it (or may be jus for fun) he hacked IMDB and made TDK to appear as #1 in the "Top 250″ and the "Bottom 100″.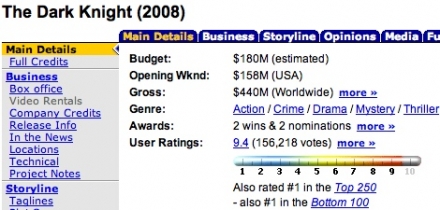 Though TDK dint feature in bottom 250 itself.
Apart from this, Wall-e and iron man were stripped of their ratings, instead the message "awating 5 votes" was displayed.
This seems to have been rectified now.
[From]
Note: Screenshot is from IMDB Pro account of author at the above mentioned source.